International highly-skilled professionals for Leipzig
Universities and other tertiary training institutions in Leipzig are becoming more engaged in technology transfer through establishing collaborations with regional companies. Due to the increasing skilled professional and management shortage, as well as concerns from industry about the lack of competencies of graduates in the areas of international business and digitalisation, an early interaction between the different actors is important.
The goal of the project is to train students to become skilled professionals for the region – with a focus on business internationalisation. In order to achieve this, the current and future skill requirements are analysed systematically. This takes place in conjunction with information events, e.g., the current operational situation of a company and their current, especially their international, business needs. These business needs are worked on together with students and further offers from our network are used to initiate further project collaborations.
During the course of this project a bridge will be built between students and local companies. The focus of the cooperation lies on meeting the needs of both the students and the companies.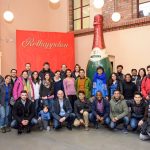 Overall Project Goals
Qualification of academic skilled and management professionals for the global workplace ("employability")
Transfer of knowledge within the region and between universities / tertiary institutions and business representatives
Integration of international students into the local job market
Tapping into the potential that international graduates in Leipzig offer as potential skilled professionals for SMEs in Leipzig
Generating competitive advantages for participating companies
Networking of the different actors and exchange about expectations of the cooperation
Making technology transfer visible for further target groups through events and publications
Preparing humanities and regional specialist students for the labour market through teaching of competencies in SME internationalisation
Alliance for Skilled Professionals – "Fachkräfteallianz"
Skilled professionals for the region
Country
Germany

Project partners
International SEPT Program
City of Leipzig

Project period
15.02.2017 bis 31.03.2018
The project "Fachkräfteallianz" is funded by the State of Saxony.